The moment we've all been dreading is quickly approaching: Roe v. Wade will fall this year. We are living in a moment that will be infamous in our nation's history, and we've all got to decide where we stand. Based on the recent Supreme Court draft decision leak, we know that there is no way to "win" for abortion rights in the Dobbs case. By the end of the year, Tennessee lawmakers will decimate abortion access in our state.
On May 9th, in response to the impending abortion ban in TN and the Supreme Court leak,   CHOICES: Memphis Center for Reproductive Health announced its plan to open a clinic in Carbondale, IL. The new clinic location is approximately a three-hour drive from Memphis and Nashville and a stop on the Amtrak line. A 2019 state law protecting access to abortion makes the state of Illinois, in the words of Gov. Pritzker, a "beacon of hope for [people] who need reproductive health." Illinois is the closest state to Tennessee that will retain the right to abortion.  Jennifer Pepper, CEO of CHOICES, stated, "We are excited about the opportunity to serve the Carbondale area and surrounding communities. We've been traveling to Carbondale since November of 2021 and could not have imagined a warmer welcome from the community leaders, healthcare professionals, and nonprofits with whom we met." The incredible heart of the Carbondale community is what let us know that we have found a second home for CHOICES. 
Almost 4,000 people a year depend on CHOICES for abortion care, and we will provide abortions in Memphis until the moment these new bans go into effect. The new Carbondale clinic will allow CHOICES to continue to provide abortion care for folks in Memphis and surrounding communities. The new clinic will be operational to provide access to abortion and to provide gender-affirming care from the very moment our doors open in September 2022. 
At CHOICES, we pride ourselves on our long history of firsts in response to the needs of our community.  Founded in 1974, CHOICES was the first abortion provider in Memphis. In the early 2000s, CHOICES accomplished more firsts for our community, including introducing gender-affirming hormone therapy for transgender individuals, contraception and preconception care for people living with HIV, and fertility assistance for same-sex couples. Most recently, CHOICES built the first birth center in Memphis and became the first nonprofit in the US to offer full-spectrum reproductive health care, ranging from abortion to midwifery-based birth and perinatal services, all under one roof.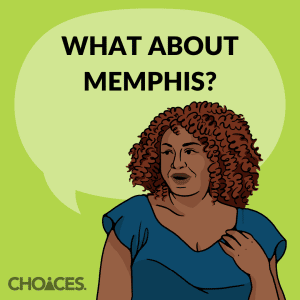 We are here in Memphis, our doors are open, and we will continue to provide abortions for as long as we are legally allowed. And even when abortion is banned in our state, our doors will remain open. In this new political environment without access to clinics, our other services including STI testing and treatment, gender-affirming care, and prenatal care and birth will be more important than ever before. CHOICES'  bold expansion plan will ensure continued access to critical reproductive health care in Memphis and expand access to abortion care in Southern Illinois. 
The situation in Tennessee is dire, but not without hope. We already know how powerful our community can be, and we have no doubt that we can make it through this storm together.